Itinerary Planner
The Way of Life – Bitesize Walk Three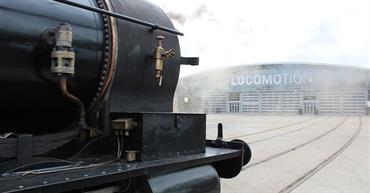 Men of Coal & Iron, Four Brave Brothers the Beautiful Game and a Saxon Church
Distance: 4-6 miles
Start: West Auckland (public bus, car or bike)
Route: West Auckland – Low Etherley – Phoenix Row – New Inn Farm – East Park – Witton Park – Escomb
Finish: Escomb
In a nutshell:
A bronze sculpture on West Auckland's village green perfectly illustrates links between football and coal mining. Both figures have the same face, wear flat caps and shorts and the footballer's leg is raised to a height representing the thickness of a coal seam.
At Etherley 18th century "blue sky" thinking solved the problem of transporting coal economically and efficiently. An innovative combination of stationary steam engines and rope hauled wagons ensured coal was moved over inclines at reasonable cost.
Witton Park ironworks was one of the first in the north east but more poignantly is the chance to reflect on the sacrifice made by the four Bradford Brothers during World War One. "The Ball and The Bradford Boy" sculpture is full of compassion.
One of England's most complete and oldest stone churches is found in the middle of modern day Escomb. Collect the church key from outside a nearby house and step into 1300 years of history.
Why not visit:
Escomb Saxon Church
Locomotion, Shildon
Product Information
Contact Details:

Saxon Green
Escomb
Bishop Auckland
County Durham
DL14 7SX

Tel:

+44 01388 768898

Contact Details:

Locomotion
Dale Road Industrial Estate
Shildon
County Durham
DL4 2RE

Tel:

033 0058 0058
Itinerary Distances
From
To
Distance * (metric)
Escomb Saxon Church

(54.66609,-1.70808)

Locomotion

(54.62305,-1.6298)

6.26
Total Distance *
6.26 miles
Estimated Journey Time
12 minutes
* Approximate distance by road