A new drinking water fountain in Bishop Auckland has been blessed by the Archbishop of York.

The Archbishop of York blessed the water fountain in a small ceremony as part of his walking tour of the Diocese of Durham with the Bishop of Durham.
The Life Way Water fountain was gifted to Durham County Council by the organisation Camino, following an agreement with A Coruña Provincial Council in north west Spain.
Since 2016, Durham County Council's international team, supported by the authority's tourism service Visit County Durham, has partnered with representatives from Galicia in Spain to collaborate and explore opportunities for a region-to-region partnership.

The two councils agreed to work together to promote each other's tourism and pilgrimage offer, mainly focusing on the walking routes of the Camino de Santiago, Camino Inglés and the Northern Saints Trails.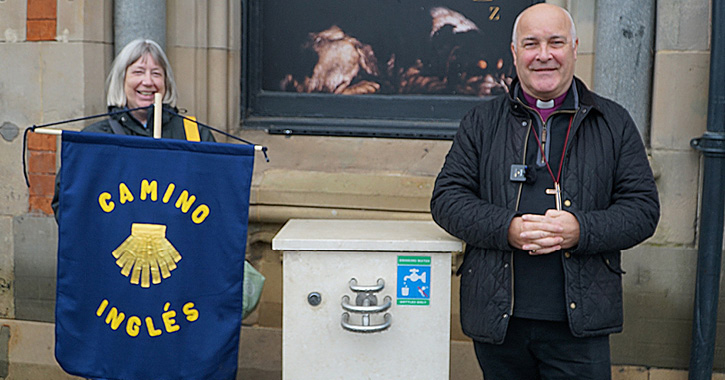 Cllr Elizabeth Scott, Durham County Council's Cabinet member for economy and partnerships, said: "It was an honour to welcome the Bishop of Durham and the Archbishop of York to Bishop Auckland. We are grateful for our growing partnership with the A Coruña Provincial Council. It was through this collaboration that the project was agreed, linking the Northern Saints Trail route The Way of Life and the Camino Ingles with the Camino de Santiago".
"We hope that the new drinking fountain will be able to provide refreshment to those travelling through the town, whether it be by those using the heritage walking and cycling routes or those following the Northern Saints Trails".
Stephen Cottrell, Archbishop of York, said: "Water is a blessing, a source of life. This practical water fountain, where folk can fill their water bottles is essential. But what makes this fountain even more special, is that it comes from Spain and is a reminder of a connection with the Camino de Santiago trail. I have walked this a number of times, each of which has refreshed my soul. The pilgrim route here is a reminder to hydrate our souls as well as our bodies."
Durham County Council installed the fountain outside of the Spanish Gallery in Bishop Auckland Market place, as part of its plans to improve the area around the Market Place through the Future High Streets Fund.
Related
0 Comments