Itinerary Planner
Explore Durham and discover a host of amazing attractions, things to do and activities for all the family.
A Taste of Times Gone By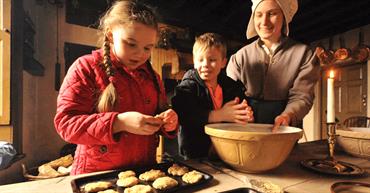 For a real taste of the past, visit award-winning Beamish – The Living Museum of the North, where you can sample traditional recipes like singin' hinnies, stotties and oat cakes cooked by costumed folk on coal-fired ranges in homes around the site. Visit Herron's Bakery, the Jubilee Sweetshop or relax in the Sun Inn with a pint of real ale. And when it's time for lunch, Davy's Fried Fish Shop is the place to go.
Product Information
Contact Details:

Beamish - The Living Museum of the North
Beamish
County Durham
DH9 0RG

Tel:

+44 0191 370 4000
Itinerary Distances
From
To
Distance * (metric)
The Jubilee Sweet shop at Beamish

(54.88108,-1.65861)

Davy's Fried Fish and Chip Potato Restaurant

(54.88108,-1.65861)

0
Total Distance *
0 miles
Estimated Journey Time
0 minutes
* Approximate distance by road