The Sockburn Worm
Durham has been plagued in the past by troublesome beasts, from brutal boars to worrisome worms.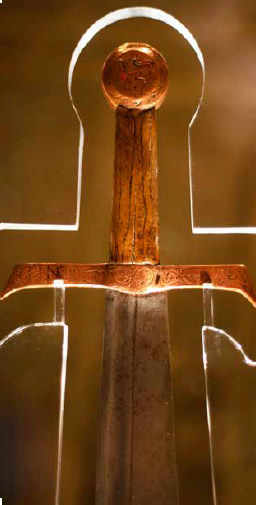 And none more so than the legend of the Sockburn Worm - a legend which gave rise to a ceremony still celebrated today.
Sockburn was a village under siege from the ferocious Sockburn Worm, who terrorised locals, devoured livestock and lay waste to the land.
A worm is the name given to a wyvern, a winged dragon sporting a tail with an arrow-shaped tip and has two legs instead of four.
Sockburn was in need of a dragon slayer, and Sir John Conyers, a member of a wealthy local family, was the man for the job. His weapon of choice was his trusty falchion, a single edged
sword with a slightly curved, long blade, light enough to be wielded using only one hand.
The humble knight valiantly fought the rampaging beast. For having slain the Sockburn Worm, Sir John Conyers was rewarded with lands surrounding the village. The dragon's story may have ended at the hands of our brave warrior, but the story of the Conyers Falchion, the sword that slain the dragon continues to this day.
From that time on to the present day, whenever a new Bishop of Durham enters the Diocese for
the first time by crossing the River Tees at Croft on Tees, a welcoming ceremony is conducted on
the bridge.
The Conyers Falchion is presented to the incoming Bishop in acknowledgement that the Bishop is the spiritual, and as was the case pre-1836, the temporal ruler of the Palatinate.
As the sword is presented, the following words are spoken:
"My Lord Bishop, I hereby present you with the falchion wherewith the champion Conyers slew the worm, dragon or fiery serpent which destroyed man, woman and child; in memory of which the king then reigning gave him the manor of Sockburn, to hold by this tenure, thatupon first entrance of every bishop into the county the falchion should be presented."
Visitors to Durham Cathedral can see the magnificent Conyers Falchion up close in Open Treasure - the cathedral's exhibition experience.