The Easington Hare
The medieval manor house of Seaton Holme in the centre of Easington Village, on the Durham
Coast, was once the Rectory for St Mary's parish church.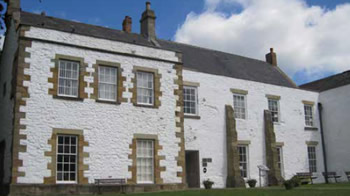 For almost 600 years Seaton Holme was the residence of the Archdeacons of Durham, who held the post of Rector of the church.
Hunting was a popular pastime in the medieval period. Hunting for food or to hone warefare skills, was simply a way of life. Sometimes something would happen to disrupt the progress
of the hunt, and one fine day that was the case in the local fields around Easington.
A hare suddenly appeared whilst the hunt was in full swing and its antics caught the attention
of the hunt dogs, leading them away from their quarry. No matter what the huntsmen did to try
and catch the hare, it led them and their dogs a merry dance. Nothing worked, until the huntsmen decided to bring in a bloodhound to chase the hare to ground.
At first the hound had to work hard to keep up with the hare and the watching men thought their plan would fail. But the chase was on, and the bloodhound was gaining ground on a hare which appeared to be tiring and was limping.
Fast and furious, both animals raced across the village green, with the hare finally running for cover through a narrow gap in a door of a cottage. But not before the bloodhound had caught and briefly held one of its legs in its mouth, wounding it in the process.
When the huntsmen caught up, they knocked on the cottage door, then rushed inside hoping to finally trap and kill the hare that caused them so much trouble. But there was no hare to be seen inside. Instead, an old woman sat by the fireside carefully bandaging her wounded heel.
Was this witchcraft, or simply mischief?
The men left the old lady alone, and never again did a hare spoil their sport.