The Devil's Lapstone
Thousands of years in the making, Castle Eden Dene is a Site of Special Scientific Interest and
National Nature Reserve, found near the Durham Heritage Coast.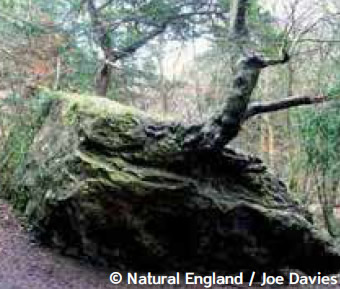 This ancient dene is North East England's largest area of semi-natural woodland and a place to
truly experience the 'wildwood' that once covered much of Britain. Well-known for its majestic yew trees and ancient oak trees, Castle Eden Dene is a magical place full of legend and folklore.
If you choose to follow the Yew Tree Trail through the dene's ancient woodland you will uncover
the legend of the Devil's Lapstone.
It is said that the Devil himself offered to help build Durham Cathedral. His evil intention was to construct foundations using crumbly rock which would cause the building to eventually collapse, killing anyone inside.
Being the Devil, he had the ability to fly, and time and time again he would fly up and down
the length of the Dene, collecting stones for his project.
One day, as he navigated his way up the Dene, the leather apron he was using to carry a big,
heavy stone snapped, and the stone hurtled towards the ground. As the giant stone fell, the
Devil snatched at it, trying to catch it again and again. All he managed to do was leave scratch
marks in the rock and spots of his own blood on the rock surface.
If you stumble across the Devil's Lapstone whilst exploring Castle Eden Dene, take a closer look, as you can still see those very marks and the blood stains he left behind.