England's Coast
Be inspired by one of the world's most amazing coastlines on your next adventure along England's Coast.
England has eight unique coastal regions to explore. Start planning your next coastal trip with the England Coast unique self-guided itinerary builder, filled with places to stay, eat and things to do.
The Durham and North East Coastal Route
Discover the delightful history of Durham and the largely undiscovered North East Coast in this two-day self-guided itinerary >>
The Durham Heritage Coastline with its dramatic views out across the North Sea, offers a rich tapestry of natural, historical and geological features, just waiting to be discovered.
This stretch of the North East coast is as interesting as it is varied, its shallow bays hide a wealth of stories of adventure and discovery. Relax and enjoy peace and tranquility or get active walking the Coastal Path or trying your hand at one of the water sports on offer along this part of the coast.
Home to a rich variety of plants and wildlife, in spring time the nature reserves along the coast welcome a breeding colony of Little Terns, one of Britain's rarest sea birds.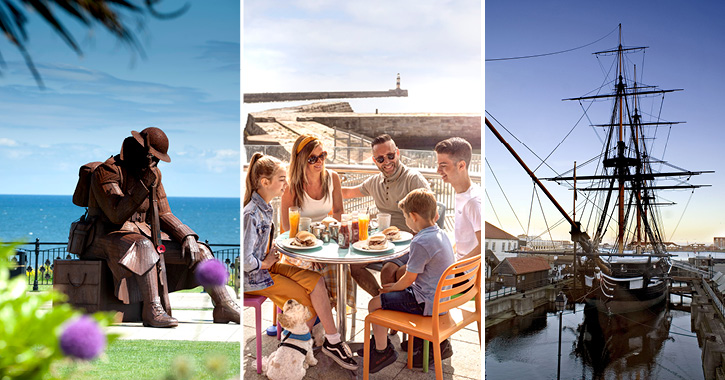 Explore Seaham, a small harbour town with spectacular views from the clifftop down to the harbour and sandy beach below. The local heritage centre and statue of the World War I "Tommy" explore the role of this part of the coast during the war. Nearby, Seaham Hall luxury hotel and spa provide the ultimate relaxation experience.
The Durham and North East coast is best explored on foot along the coastal path to appreciate the natural beauty and rural landscape.
Along this part of the coast, you can also explore the industrial heritage of the many small mining communities. The inspiration of the fictional town in the Billy Elliot film and musical, these colliery towns which seem idyllic today were once industrial centres.
For a spot of retail therapy, Dalton Park, just inland from the coast is one of the largest outlet shopping centres in the North East with a wide variety of shops and restaurants.
To the south, is the Tees valley with its seaside towns of Redcar and Saltburn-by-the-Sea. These popular resorts in the Victorian era are home to a water-powered cliff lift and impressive pier that extends 200 metres from the shoreline.
Start planning your England Coast itinerary today >>