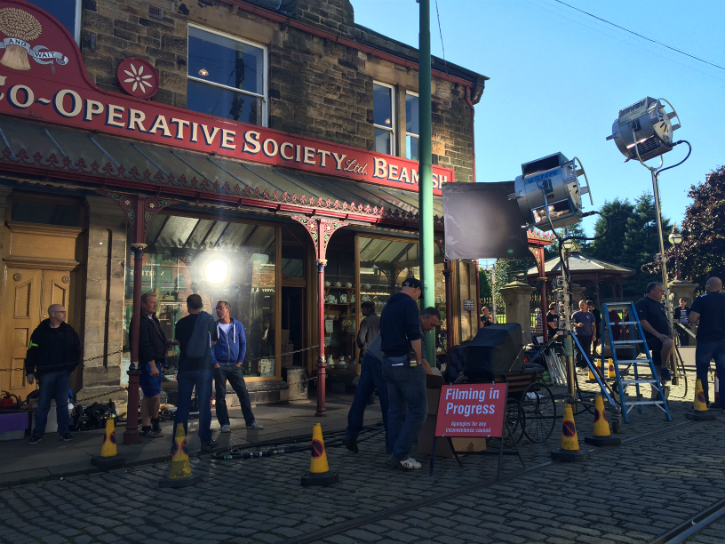 A new chilling two-part drama starts on ITV next week, months after filming took place right here at one of Durham's most popular visitor attractions.
Dark Angel is based on the extraordinary true story of Victorian poisoner Mary Ann Cotton, - famously known as Britain's first serial killer, with parts of the new drama being filmed at award-winning Beamish Museum.
Downton Abbey's Joanne Froggatt stars as the murderess, who had strong links with Durham and the North East; born in Low Moorsley, a small village not far from Durham City (then part of Durham and now part of nearby Sunderland), she also lived in East Rainton, Murton and Seaham before claiming her final victim in West Auckland and going on to be executed in Durham Jail in 1873.
Mary Ann Cotton's killing spree started more than 150 years ago, and she is believed to have been responsible for the deaths of up to 21 people including four husbands, her mother, her children and stepchildren.
Why Beamish?
Stepping into Beamish is like setting foot onto a film set, so it's no surprise that the award-winning museum has featured in many films, TV dramas, documentaries and programmes over the years, most notably the last ever episode of Downton Abbey on Christmas Day last year, when 320 million people worldwide tuned in to see the 1900s Town Street covered in snow.
And now you can see Beamish on your screen again in Dark Angel, as several areas of the museum will feature - lookout for the drift mine, and the Co-op in the 1900s Town where Cotton goes to buy her arsenic - both of which you can experience for yourself when visiting Beamish.
Watch out for us in Dark Angel, new @ITV drama about NE serial killer Mary Ann Cotton on Monday, starring #DowntonAbbey actress @JoFroggatt! pic.twitter.com/KJ9wkMMT75

— Beamish Museum (@Beamish_Museum) October 26, 2016
While Downton Abbey's Joanne Froggatt plays the lead, local actor Alun Armstrong plays Mary Ann's stepfather and was delighted to film back in his home county.
During a walking holiday in Weardale Alun took his family to Beamish for a day out...
Alan said: "I took them all to Beamish and we went down the drift mine there. A young man gave us a commentary describing the kind of working conditions and showed us all of the implements they used. There were three or four of us who were from mining families and we were all shocked at just how tough it was. It was very moving"
"Strangely enough I had never been to Beamish before. That was my first visit. And they've got our Co-op there; the Annfield Plain Co-op building; the one I went to, day in and day out, all through my childhood. Although my character wasn't involved in the scene it was also used as the location for the general store in Dark Angel where Mary Ann buys her arsenic"
"It was remarkable to walk back into that Co-op after all that time. Beamish is a wonderful museum and I shall definitely be going back again"
Dark Angel starts on ITV at 9pm on Monday 31st October.
Related
0 Comments