Schoolchildren create saintly artwork
20th November 2020
Categories: Latest News
Schoolchildren at Chester-le-Street Church of England School have created a series of stunning mosaic wall murals, working alongside a local artist. The artworks were inspired by the Northern Saints Trails, a series of six new walking trails that bring to life the fascinating stories of the region's saints, with one route, The Angel's Way, passing the County Durham school.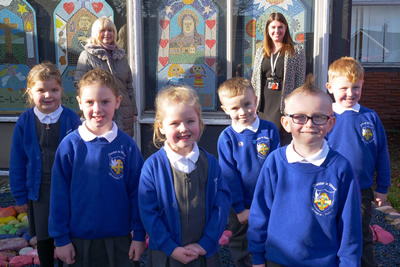 The Northern Saints Mosaics Project, funded by Durham County Councilor Tracie Smith through her Neighbourhood Budget, saw local artist Susan Warlock work with all children from Reception through to Year 6, across the course of a week, to create the designs.
In addition the school worked with Culture for Kids, learnt about St Cuthbert and St Bede, the pilgrimage routes on which the Northern Saints Trails are based, and the importance of Chester-le-Street in medieval times.
Cllr Smith, a keen walker and supporter of the Northern Saints Trails project, said: "It was fantastic to see how the schoolchildren were inspired by the region's saints and their stories, and how they enjoyed discovering the area's fascinating past. They put their hearts and souls in to the artwork."
Headteacher Ms Rachel Butler added, "The four mosaics take pride of place at the entrance to our school. Parents and pupils comment on them daily and they reflect the great history of our local area. This is a lasting piece of artwork that the children are very proud of."