Itinerary Planner
The Way of Learning – Bitesize Walk Three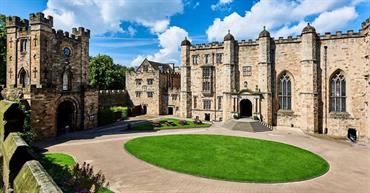 A Monks' Holiday Retreat, a Fortified Castle and a Magnificent Cathedral.
Distance: 4-6 miles
Start: Palace Green, Durham City
Route: Palace Green – riverbanks – Penny Ferry Bridge - Crook Hall – Frankland Lane – Brasside Ponds – Finchale Priory
Finish: Finchale Priory, Durham
In a nutshell:
How many buildings can be counted around Durham City's historic Palace Green? How many are built in brick? Which of the buildings has the famous Sanctuary Knocker on its main doorway? And name the family linked to the Coat of Arms displayed on the front of the 15th century Exchequer Building.
The Penny Ferry Bridge over the River Wear recalls the days of the original ferry crossing. When the bridge opened in 2002 the first 20 people to walk across it were each given an old penny as a souvenir of the day.
A "ready-steady-go" family run en-route to Frankland Farm and the nature reserve of Brasside Ponds burns off excess energy before arriving at the extensive ruins of Finchale Priory, once a place of rest and recreation for the medieval Benedictine monks of Durham Cathedral.
Why not visit:
Durham Cathedral Museum, Durham City
Durham Castle, Durham City
Palace Green Library and World Heritage Site Visitor Centre
Itinerary Distances
From
To
Distance * (metric)
Durham Castle

(54.77552,-1.57679)

Durham Museum and Heritage Centre

(54.77367,-1.57464)

0.22
Durham Museum and Heritage Centre

(54.77367,-1.57464)

Palace Green Library

(54.77465,-1.57644)

0.14
Palace Green Library

(54.77465,-1.57644)

Finchale Priory

(54.81821,-1.54122)

4.82
Total Distance *
5.18 miles
Estimated Journey Time
10 minutes
* Approximate distance by road