Itinerary Planner
The Way of Learning – Bitesize Walk Two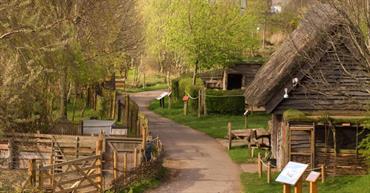 A Windmill, a Water Tower and Wonderland Author.
Distance: 2-4 miles
Start: Whitburn (public bus, car, bike)
Route: Whitburn – Well House – Cleadon Hills (windmill) – Sunniside Farm – west to Whiteleas – Tileshed Local Nature Reserve/Tileshed Lane
Finish: Tileshed Local Nature Reserve
In a nutshell:
Lewis Carroll (d.1898), author of the weirdly wonderful "The Walrus and the Carpenter" and "Alice in Wonderland" was a frequent visitor to the home of his cousin in the charming village of Whitburn. Picture-postcard perfect with a tree-lined main street and handsome Georgian and Victorian houses Whitburn makes a gracious start to this family favourite walk.
Whitburn may face the sea but to its west lies the Cleadon Hills with the landmark ruin of Cleadon Windmill constructed from local Magnesian Limestone in the 1820s for the grinding of corn. The chimney of Cleadon Water Tower is not far away and both make interesting targets to aim for.
A former brick and tile works has been developed into a wildlife haven at Tileshed Local Nature Reserve. Look for frogs, toads and dragonflies (seasonal) or enjoy the adjacent "edible landscape" where old and unusual varieties of fruit trees have been planted.
Why not visit:
St Paul's Monastery, Jarrow
Jarrow Hall, Jarrow – Anglo-Saxon Farm, Village, and Bede Museu offers a window into the world of the7th century monk, writer and historian, the Venerable Bede and the monks who lived at St Paul's Monastery.
Souter Lighthouse, Marsden
Product Information
Contact Details:

Anglo-Saxon Farm
Village and Bede Museum
Church Bank
Jarrow
South Tyneside
NE32 3DY

Tel:

+44 0191 424 1585

Contact Details:

Coast Road
Whitburn
Tyne and Wear
SR6 7NH

Tel:

+44 0191 529 3161
Itinerary Distances
From
To
Distance * (metric)
St Pauls Church and Monastic Site

(54.9806,-1.4719)

Jarrow Hall

(54.9821,-1.47519)

0.24
Jarrow Hall

(54.9821,-1.47519)

Souter Lighthouse and The Leas

(54.97064,-1.36414)

6.49
Total Distance *
6.73 miles
Estimated Journey Time
13 minutes
* Approximate distance by road