Itinerary Planner
The Way of Learning – Bitesize Walk One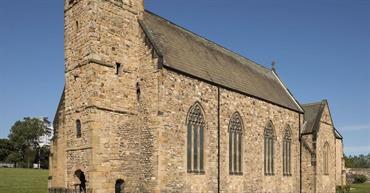 Glassmaking, Golden Beaches and the Father of English History.
Distance: 1-2 miles
Start: National Glass Centre, Sunderland (public bus, Metro system, car or bike)
Route: National Glass Centre – riverside path towards sea front/marina – north along seafront – Bede Memorial Cross at Cliff Park.
Finish: Bede Memorial Cross on Cliff Park
In a nutshell:
Sunderland's history as a northern powerhouse can be traced back 1300 years when a monastery was established here on the north bank of the River Wear.
At the National Glass Centre the city's rich heritage as a centre of glass manufacturing can be explored. Families can have fun learning together whilst watching the Centre's free glass blowing demonstrations.
The sight of Roker pier curving 2,000 feet into the ocean and ending in the distinctive red and grey granite lighthouse marks the entrance to the River Wear. Northwards leads to the Venerable Bede Memorial Cross commemorating a man whose life as a monk began in childhood when he joined the monastic community of St Peter's monastery, Monkwearmouth. The Venerable Bede (d.735AD) was a writer, historian and teacher and amongst his many literary achievements was "The Ecclesiastical History of the English People" which helped give the English people an identity.
Why not visit:
St Peter's church, Monkwearmouth
Sunderland Museum and Winter Gardens
Itinerary Distances
From
To
Distance * (metric)
St Peter's Church

(54.91313,-1.37486)

Sunderland Museum & Winter Gardens

(54.90417,-1.38045)

0.95
Sunderland Museum & Winter Gardens

(54.90417,-1.38045)

National Glass Centre

(54.91344,-1.3719)

1.05
National Glass Centre

(54.91344,-1.3719)

Bede Memorial Cross

(54.92791,-1.36732)

1.47
Total Distance *
3.48 miles
Estimated Journey Time
7 minutes
* Approximate distance by road