Itinerary Planner
The Way of Light – Bitesize Walk Two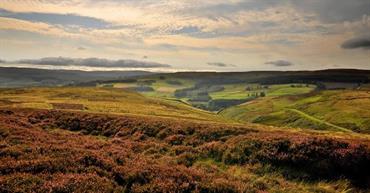 A Honey-Stoned Village, Dark Skies and an Area of Outstanding Natural Beauty.
Distance: 2-4 miles
Start: Blanchland (car or bike)
Route: Blanchland – Shildon – Pennypie Farm – Actoncleugh Head/Slaley Forest
Finish: Slaley Forest
In a nutshell:
The historic village of Blanchland within the North Pennines Area of Outstanding Natural Beauty has tales of lead miners, 18th century Jacobites and the Lord Crewe Charitable Trust established in 1721 by a Prince Bishop of Durham.
In Dark Sky territory take a "walk on the wild side" in the company of friends and with a spirit of adventure. In the darkness of a cloudless night the celestial world opens up during a stroll on the open moors near Pennypie Farm, north of Blanchland village centre. For the well equipped expert in night time navigation the walk can be extended to the edge of Slaley Forest.
Whilst a full moon will aid navigation it will mean less stars are visible against the lunar brightness. Carry a torch with a red beam or tape red film across a white beam to limit the impact a white light can have on human vision.
Why not visit:
St Mary the Virgin, Blanchland Abbey
Product Information
Contact Details:

Blanchland
Consett
County Durham
DH8 9ST

Tel:

+44 (01434) 673609
Itinerary Distances
From
To
Distance * (metric)
North Pennines Area of Outstanding Natural Beauty (AONB)

(54.73597,-2.20708)

St Mary's Church

(54.84903,-2.05492)

14.34
Total Distance *
14.34 miles
Estimated Journey Time
28 minutes
* Approximate distance by road