Itinerary Planner
The Way of Light – Bitesize Walk One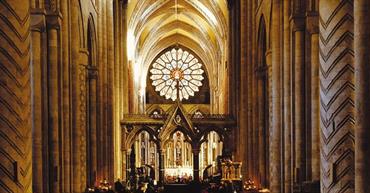 Stunning Stained Glass, a World Heritage Site and Beautiful Riverbank Walks.
Distance: 1-2 miles
Start: Durham Cathedral, Durham City (public bus, train, car or bike)
Route: Durham Cathedral – Durham City riverbanks – Prebends Bridge – Framwellgate Bridge.
Finish: Durham Cathedral
In a nutshell
As a "Beacon of the North" Durham Cathedral sheds light on the craftsmanship of the past and present. Its windows glow in sunlight but the stories illustrated in the stained glass disappear in the darkness of night to re-emerge the next day simply because of light. Choose a favourite from thought-provoking contemporary window designs and compare and contrast to the more traditional designs.
Escape Durham's busy city streets and climb to the top of the Cathedral tower to enjoy ever more beautiful views across the city and beyond.
Of all the seasons, early Spring and Autumn bring particular delights along Durham City's riverbanks. Stroll through a perfect 18th century Picturesque landscape framed by the city's stone bridges whilst admiring views of Cathedral and Castle which provided inspiration to writers and artists down the centuries.
Why not visit:
Durham City Church Trail
Durham Town Hall
Product Information
Contact Details:

Market Place
Durham City
County Durham
DH1 3NJ

Tel:

+44 03000 267955

Contact Details:

Durham University
Palace Green
Durham City
County Durham
DH1 3RW

Tel:

+44 0191 334 2932

Contact Details:

The Cathedral Office
The College
Durham City
County Durham
DH1 3EH

Tel:

+44 191 338 7178
Itinerary Distances
From
To
Distance * (metric)
Durham Town Hall

(54.77703,-1.5756)

Durham Castle

(54.77552,-1.57679)

0.17
Durham Castle

(54.77552,-1.57679)

Durham Cathedral

(54.77347,-1.57647)

0.21
Total Distance *
0.37 miles
Estimated Journey Time
1 minutes
* Approximate distance by road