Itinerary Planner
The Way of the Sea – Bitesize Walk Three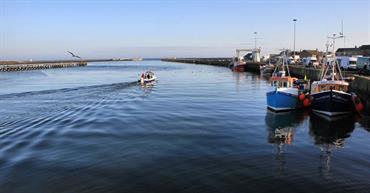 Warrior Earls, Wildlife Watching and Charming Seaside Towns.
Distance: 4-6 miles
Start: Warkworth village (public bus, car or bike)
Route: Warkworth – River Coquet – Amble – Low Hauxley – Hauxley Nature Reserve
Finish: Hauxley Nature Reserve
In a nutshell:
Rivers carry their own stories and the River Coquet more than most. Its salmon-bearing waters flow from the Cheviot Hills through the remote landscape of Northumberland National Park to journey's end at Amble.
At Warkworth the river carves a horseshoe loop creating a narrow neck of land perfectly suited to castle building. Even as a ruin, Warkworth Castle conveys the power of the mighty medieval Percy family, warrior Earls of Northumberland. In his history play "Henry IV" William Shakespeare describes the castle as "a worm eaten hold of ragged stone".
At charming Amble the River Coquet serenely slips into the ocean. Offshore is the bird sanctuary of Coquet Island home (in summer months) to 90% of the UK's population of Roseate Terns. And south of Amble is the seaboard township of Hauxley, one of the best wildlife-watching spots on the Northumberland coast with extensive views across Druridge Bay.
Why not visit:
The Church of St Lawrence, Warkworth
Amble Harbour Village, Amble - seafood centre, craftshops and restaurants.
Product Information
Contact Details:

Amble Marina
Amble
MORPETH
Northumberland
NE65 0YP

Tel:

+44 (0) 1665 712168

Contact Details:

Warkworth
MORPETH
Northumberland
NE65 0UJ
Itinerary Distances
From
To
Distance * (metric)
St Lawrences Church

(55.34913,-1.61245)

Amble Harbour & Marina

(55.33551,-1.58416)

2.11
Amble Harbour & Marina

(55.33551,-1.58416)

Hauxley Nature Reserve

(55.3154,-1.55667)

2.55
Hauxley Nature Reserve

(55.3154,-1.55667)

Warkworth Castle

(55.34493,-1.6117)

4.31
Total Distance *
8.98 miles
Estimated Journey Time
17 minutes
* Approximate distance by road