Itinerary Planner
The Way of the Sea – Bitesize Walk Two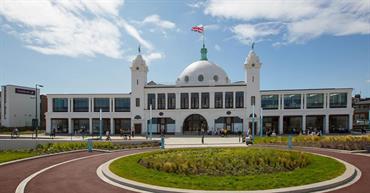 A Surfer's Paradise, a Local Art Colony and a Spanish City.
Distance: 2-4 miles
Start: Tynemouth village (public bus, Metro, car or bike)
Route: Tynemouth – Cullercoats – Whitley Bay
Finish: Whitley Bay
In a nutshell:
The region's coastline has been a strength, a weakness and a source of opportunity for centuries. Scenically beautiful, vulnerable to attack by invaders and bountiful in marine life, the sea endlessly enthrals. Ask any surfer and they will highlight Tynemouth's Long Sands as a surfers' paradise. Its curving, golden beach is perfect for building sandcastles, sunbathing or simply swimming.
Members of Cullercoats Artists' Colony (c1870-1920) found inspiration in the local coastal landscapes and communities. Their subjects included the Cullercoats "fish lasses" renowned for their humour, resilience and hard work in all weathers.
Whitley Bay expanded with the arrival of the railway in 1862 and has long been a popular day trip destination for locals and visitors. But its trademark building arrived in 1910 when the distinctive dome shaped Spanish City opened as an entertainment hub. The inaugural concert was themed as a Toreadors' party with awnings painted with Spanish village scenes, hence the centre's name.
Why not visit:
St George's Church, Cullercoats – built 1882 in memory of 5th Duke of Northumberland
Spanish City, Whitley Bay
Product Information
Contact Details:

Spanish City Plaza
Whitley Bay
Tyne and Wear
NE26 1BG

Tel:

+44 0191 691 7090