Itinerary Planner
The Way of the Sea – Bitesize Walk One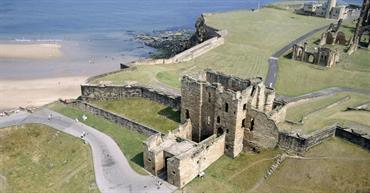 Monks, Admirals and Fish & Chips
Distance: 1 -2 miles
Start: Clifford's Fort, North Shields Fish Quay (public bus, train, car or bike)
Route: North Shields Fish Quay – The Flatts – The Collingwood Monument – Tynemouth
Finish: Tynemouth Priory and Castle
In a nutshell:
A "shieling" was originally a fisherman's hut and several were built on both banks of the River Tyne giving rise to the place names North and South Shields.
North Shields Fish Quay is home to historic buildings but commercial fishing remains at its heart and the Quay is proud to be rated as England's largest prawn port. Fans of seafood can buy wet fish to take home or relax in one of the Quay's many restaurants.
Tynemouth Priory and Castle offers up a centuries-old story of monks, kings and coastal defence.
The Collingwood Monument honours Lord Nelson's second in command at the Battle of Trafalgar in 1805. On shore leave, Admiral Lord Collingwood carried acorns in his pocket planting them randomly in the hope that oak trees would grow to supply the navy's needs for timber to build mighty warships.
Why not visit:
Christ Church - the Mariners' Chapel, North Shields
Old Low Light Heritage Centre, North Shields Fish Quay
Product Information
Contact Details:

Tynemouth Priory and Castle
Nr North Pier
Tynemouth
Tyne And Wear
NE30 4BZ

Tel:

+44 0191 257 1090

Contact Details:

Fish Quay
North Shields
Tyne & Wear
NE30 1HF

Tel:

+44 0191 200 5164
Itinerary Distances
From
To
Distance * (metric)
Tynemouth Priory and Castle

(55.01767,-1.41972)

North Shields Fish Quay

(55.00944,-1.43518)

1.21
Total Distance *
1.21 miles
Estimated Journey Time
2 minutes
* Approximate distance by road