Itinerary Planner
The Way of Love – Bitesize Walk Three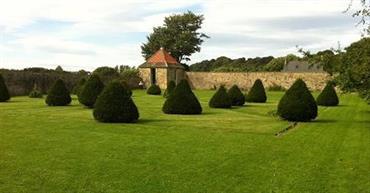 Iron Age Defences, and Historic Gardens and a Unique Haven for Nature.
Distance: 4-6 miles.
Start: Palace Green, Durham City
Route: Palace Green – Elvet Bridge – Whinney Hill – Maiden Castle – Old Durham Gardens – Sherburn – Cassop Vale – Cassop
Finish: Cassop
In a nutshell:
Lovers of landscape will find plenty to explore in County Durham where peaceful enjoyment amongst easy-on-the-eye landscape is the order of the day.
The tree covered slopes of Maiden Castle mask the site of an Iron Age hillfort perfectly positioned on an easily defended knoll of land where ancient man could look out over the flood plain of the River Wear.
Old Durham was the site of a Roman villa and farmstead whilst Old Durham Gardens witnessed plenty of changes of use across 350 years of existence. First a private garden, then a commercial nursery it also at one time housed a bowling green and tennis courts.
The precious Magnesian Limestone grasslands of east Durham form the geology of Cassop Vale National Nature Reserve. Its lime rich soils support orchids, cowslips and the Common Rock Rose which, in turn, supports the rare Durham Argus Butterfly.
Why not visit:
St Helen's church, Kelloe
Product Information
Contact Details:

Manor Road
St Helen Auckland
Bishop Auckland
County Durham
DL14 9EN

Tel:

+44 01388 604152

Contact Details:

Bent House Lane
Durham
County Durham
DH1 2RY

Contact Details:

Palace Green
Durham
County Durham
DH1 3RN

Tel:

+44 0191 334 2932
Itinerary Distances
From
To
Distance * (metric)
St Helen Auckland Parish Church

(54.63578,-1.70976)

Old Durham Gardens

(54.77153,-1.55345)

16.34
Old Durham Gardens

(54.77153,-1.55345)

Palace Green Library

(54.77465,-1.57644)

1.37
Total Distance *
17.7 miles
Estimated Journey Time
34 minutes
* Approximate distance by road