Itinerary Planner
The Way of Love – Bitesize Walk One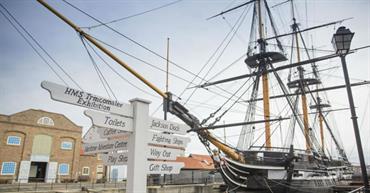 St Hilda, the Georgians and Naval Bombardment.
Distance: 1-2 miles
Start: The Headland, Hartlepool
Route: Circular walk around The Headland via Heugh Gun Battery and Town Walls
Finish: The Headland, Hartlepool
In a nutshell:
Time changes everything. First "Heruteu" then "Hertepol" and now "Hartlepool" the town's story begins with the foundation of a 7th century monastery. Its second Abbess was St Hilda, a pioneer of the early church. Honing her skills at Heruteu Hilda moved to Whitby where Caedmon, England's first named poet, benefitted from her support and patronage.
Hartlepool's Headland still has stretches of the medieval Town Wall whilst Georgian gentility survives in its town houses. Prominent 18th century Durham families would holiday here to "take the water", socialise and gossip.
More poignantly, the Heugh Gun Battery witnessed the Bombardment of Hartlepool by the German Navy in December 1914. Private Theo Jones, Durham Light Infantry, became the first British soldier in World War One to be killed by enemy action on British soil.
Why not visit:
The Parish Church of St Hilda, Hartlepool Headland
The National Museum of the Royal Navy, Hartlepool
Product Information
Contact Details:

Jackson Dock
Maritime Avenue
Hartlepool
Tees Valley
TS24 0XZ

Tel:

+44 01429 860 077

Contact Details:

The Rectory
Church Close
Hartlepool
Tees Valley
TS24 0PW

Contact Details:

HARTLEPOOL
Cleveland
TS24 0PW

Contact Details:

Moor Terrace
Hartlepool
Tees Valley
TS24 0PS

Tel:

+44 01429 270746
Itinerary Distances
From
To
Distance * (metric)
National Museum of the Royal Navy Hartlepool

(54.68905,-1.2022)

St Hilda's Church Visitor Centre

(54.69589,-1.18039)

1.44
St Hilda's Church Visitor Centre

(54.69589,-1.18039)

Hartlepool Headland

(54.69588,-1.1804)

0
Hartlepool Headland

(54.69588,-1.1804)

Heugh Gun Battery Museum

(54.69667,-1.21176)

1.82
Total Distance *
3.26 miles
Estimated Journey Time
6 minutes
* Approximate distance by road