Itinerary Planner
The Way of Life - Bitesize Walk One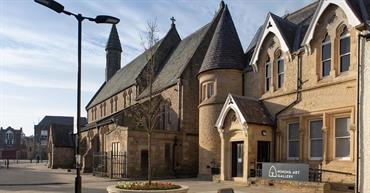 Discover the wonderful delights of Bishop Auckland, an ancient market town.
Distance: 1-2 miles
Start: Bishop Auckland (public bus, car or bike)
Route: Bishop Auckland Market Place – Auckland Deer Park/Deer Shelter – circular through Park – return to Market Place.
Finish: Auckland Deer Park
In a nutshell:
Bishop Auckland is the must-see destination of the moment with a fascinating past, a renewed present and a watch-this-space future.
Ramble or run, talk and walk or sit and share time together in Auckland Castle Deer Park.
This former pleasure ground of the Prince Bishops of Durham has an elegant 18th century Deer Shelter acting as both "eye catcher" as well as shelter and feeding station for the once-present deer.
For the birdwatchers in the family spotting opportunities galore are found within the Park's varied landscape which includes both ancient woodland and the quaintly named River Gaunless meaning "lazy" or "useless" river.
Why not visit:
Bishop Auckland Town Hall
Chapel of St Peter, Auckland Castle
The Mining Art Gallery
The Spanish Gallery
Product Information
Contact Details:

45 Market Place
Bishop Auckland
County Durham
DL14 7NP

Tel:

+44 01388 743750

Contact Details:

Market Place
Bishop Auckland
County Durham
DL14 7NR

Tel:

+44 01388 743797

Contact Details:

Auckland Park
Bishop Auckland
County Durham
DL14 7QJ

Tel:

+44 0870 333 1181
Itinerary Distances
From
To
Distance * (metric)
Mining Art Gallery - The Auckland Project

(54.66542,-1.67128)

Auckland Castle - The Auckland Project

(54.66662,-1.67024)

0.13
Auckland Castle - The Auckland Project

(54.66662,-1.67024)

Auckland Castle Deer House and Park

(54.66596,-1.67258)

0.15
Total Distance *
0.28 miles
Estimated Journey Time
1 minutes
* Approximate distance by road