The Bowes Museum: Goya's Prison: The Year of Despair
The Bowes Museum
Newgate
Barnard Castle
County Durham
DL12 8NP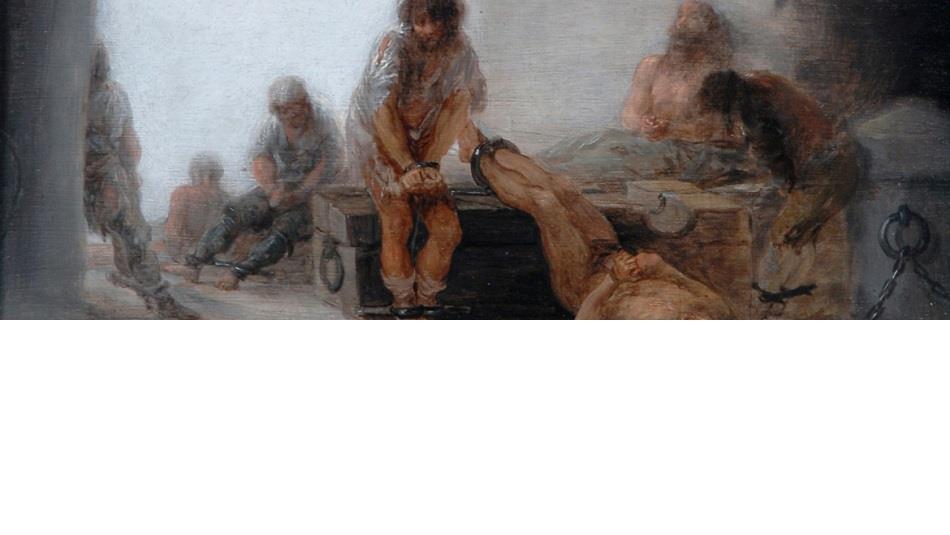 About
Late in 1792 Goya became severely ill, and even though he eventually recovered he was left profoundly deaf for the rest of his days. During a period of recuperation he produced a set of small cabinet paintings on tin plate that were to define the rest of his career.The Bowes Museum's Interior of a Prison is one of this series of works, and the Museum's Director, Adrian Jenkins, explored the story behind the picture created during this monumental moment in Goya's life.

By 1792 Goya, approaching 46, was tired of his routine painting cartoons for the Royal Tapestry Factory. Since 1775 he'd painted more than 60 full size colour motifs. The money was good, but they were only for Royal consumption; none of his wider audience got to see them.

With his career at a crossroads fate took a hand, and his destiny was decided by the debilitating illness which remains a mystery to this day. Whatever its cause it marked a turning point in defining the career of one of Western art's greatest masters. Without any discussion with his Royal patrons, Goya left Madrid in 1792, heading to Andalusia. Ill with terrible noises in his head, severe dizziness, loss of balance and failing eyesight, his symptoms remained unidentified, although syphilis and meningitis were among the most popular theories.

Whatever the cause, the result left him markedly deaf, isolating him in an alien world and unable to communicate.

During Goya's recuperation in Andalusia he convalesced with wine exporter and private collector, Sebastian Martinez; a fan of English painters such as Reynolds, whose work Goya was able to study.

This shift away from the huge official tapestry commissions to smaller and more intimate works was instrumental in restoring his reputation.

In painting his series of cabinet pictures, Goya allowed himself to produce images that were of personal interest rather than the restrictions imposed by patrons. The subjects were diverse – six bullfighting scenes, a shipwreck, a raging inferno, a murderous stagecoach holdup, a travelling theatre, a lunatic asylum and the inside of a prison. But of the 12 images it was his portrayal of the inside of a prison that perhaps best conveyed Goya's state of mind.

This series of small works, all painted on tin, became the tinplate templates for much of his subsequent work. In these works Goya discovered his niche, whether his patrons liked it or not.

Goya's Prison: the Year of Despair studied The Interior of a Prison in detail, with reference to other pictures in the cabinet series. The display, also included works by Reynolds, Ramsay and Tiepolo.
TripAdvisor
Opening Times
23rd Mar- 23rd Jun
(23 Mar 2019 - 23 June 2019)
Access Information