Exhibition - Judy Hurst – Illumination: the Gateway to Eternity
The Bowes Museum
Newgate
Barnard Castle
County Durham
DL12 8NP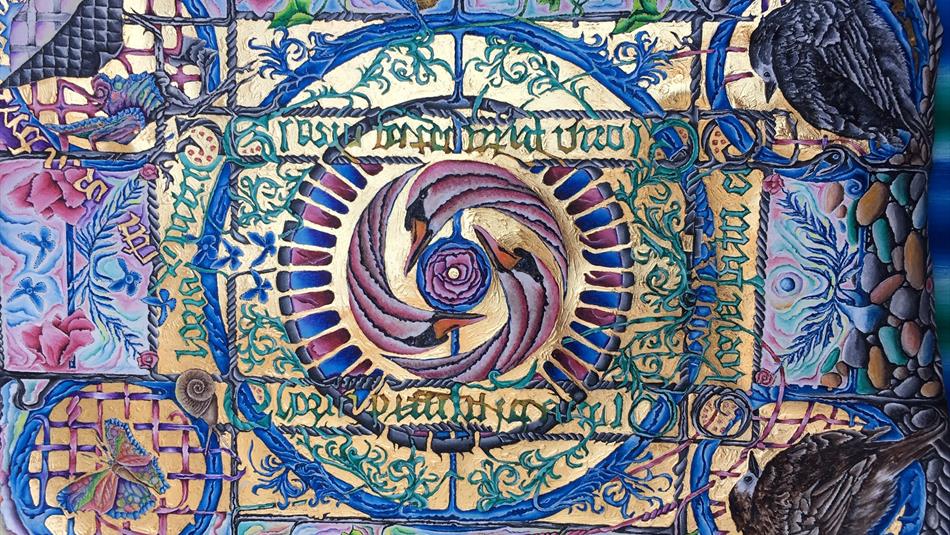 About
Exquisite intricate works of art, some inspired by The Bowes Museum's own collection, will be on display as contemporary artist Judy Hurst returns for her latest selling exhibition Illumination: the Gateway to Eternity.
Specialising in the historic and traditional technique of painting on vellum (calfskin), a method used for making illuminated manuscripts from medieval times onward; her work is informed by her knowledge, respect and deep love of nature, wildlife and Northern heritage as well as the patterns she believes are fundamental to existence.
The vivid colour and design in Hurst's work acknowledge the eternal microcosms found throughout the universe, from the smallest structures in nature to the celestial galaxies and beyond. It's also inspired by the patterns and layout of Anglo-Savon manuscripts, particularly the large and decorative 'carpet' pages that often feature at the beginning of the text/opening of a work.
Born and raised in Durham, Judy has a degree in fine art and her work is held in public and private collections across the globe. She has taught in New Zealand and the UK. Her work has also been shown locally at Durham Cathedral and Durham University.
Dr Howard Coutts, The Bowes Museum's Curator of Ceramics, said: "We are delighted to welcome Judy back to the Museum with a selection of her intricate illustrated works. They include framed vellum paintings, gilded with 24-carat gold leaf, incorporating designs with 18-carat gold, titanium, silver, semi-precious stones, glass and exotic wood."
Judy said: "Painting is how I share what I find incredibly exciting – that nature is existence – and all existing things, organic and inanimate, are formed from the same building blocks of atoms (which in turn are made from even smaller particles). I believe that humans have recognised and acknowledged these patterns since time immemorial throughout our world. I enjoy starting from a vague idea, then instinct takes me into worlds I never knew were there and which I find entrancing. When I share my worlds with the onlooker, I feel a great sense of connection and achievement and this gives me great pleasure."
The selling exhibition at The Bowes Museum will give visitors the opportunity to purchase their own piece of her work or to simply admire the quality of the images.
Judy Hurst – Illumination: the Gateway to Eternity will open on 21 September and closes on 23 February 2020.
The Bowes Museum, Café Bowes and shop are open daily from 10am. For more information about events and exhibitions contact 01833 690606 or visit the website thebowesmuseum.org.uk
TripAdvisor
Opening Times
Season
(21 Sept 2019 - 23 Feb 2020)
Access Information