Mining Art Gallery welcomes its 10,000th visitor
31st May 2018
Categories: Latest News
Durham's only art gallery dedicated to the North East region's coalmining heritage, celebrated a milestone moment this week after welcoming its 10,000th visitor!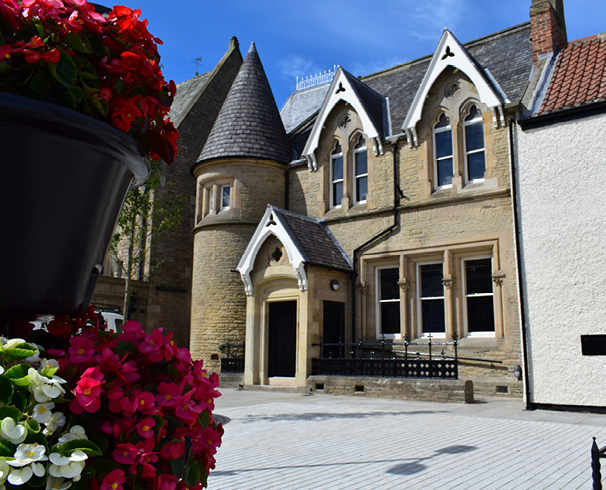 Mining Art Gallery, Bishop Auckland Market Place. Photo credit: The Auckland Project.
The Mining Art Gallery, part of The Auckland Project reached the landmark figure, just eight months after its launch when Claire Vickers and her seven-year-old son Jack Bell walked through the doors on Tuesday, 29 May 2018.
Claire and Jack visited the gallery, in Bishop Auckland Market Place, with family friend Joanne Ames and her sons Elliot, aged 9 and Isaac, aged 5. The group, who are all from Bishop Auckland, decided to visit the gallery during the half-term school holidays to take part in family craft activities together, creating their own banners for the Durham Miners' Gala in July.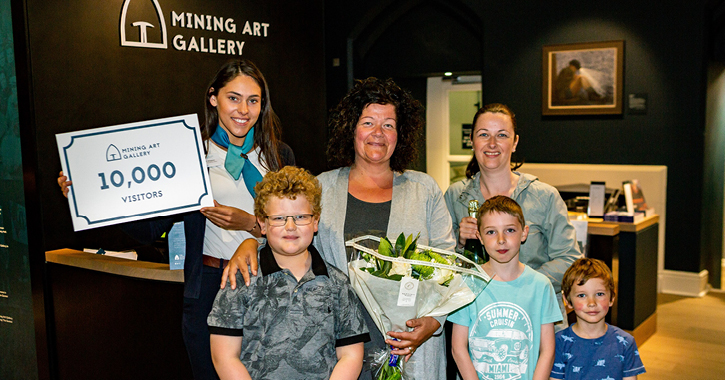 Pictured above: Experience Assistant, The Auckland Project, Jack Bell, Joanne Ames, Elliot Ames and Isaac Ames. Photo credit, Jamie Sproates, courtesy of The Auckland Project
Claire said: "My grandad was a miner so I like to bring the children to the gallery so they can understand their history
"We quite often visit the Mining Art Gallery to take part in craft sessions, the kids love it and we always have a good time together. We enjoy looking round the gallery too, the children enjoy picking out which artworks they like best.

Launched in October 2017, the Mining Art Gallery attracted more than 2000 visitors in its first week, as people flocked for an opportunity to see powerful art from prominent local mining artists such as Tom McGuinness and Norman Cornish.
Since then, visitors have come to the gallery from across the county, the UK and international locations such as France, Spain, America, South America and Canada to see the works on display, which evoke both the arcane underground world of the coalmines and the closely bound communities of the surrounding pit villages and colliery towns.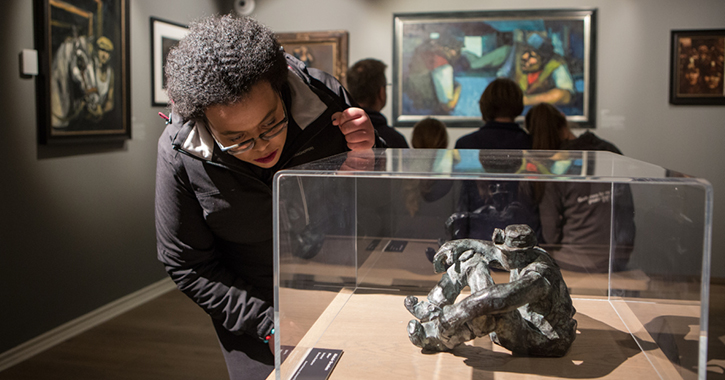 The gallery is run by team of 50 staff and volunteers, who also run daily Working the Seam talks, digging deeper to reveal more about the artworks on show.
Kathy Wilson, Visitor Experience Officer, The Auckland Project, said: "We are absolutely thrilled to have reached such an exciting milestone for the Mining Art Gallery.
"The heritage of our region is something we want to bring into the future and the feedback we have received since opening has shown that the mining art on display here still resonates strongly with both the local community and visitors from outside the region."