The unwrapping begins!
20th November 2018
Categories: Latest News
The news everyone has been waiting for, the mammoth task of unwrapping the Central Tower of Durham Cathedral will begin on 4 December 2018, following the £1.9 million restoration work which has been underway since 2015.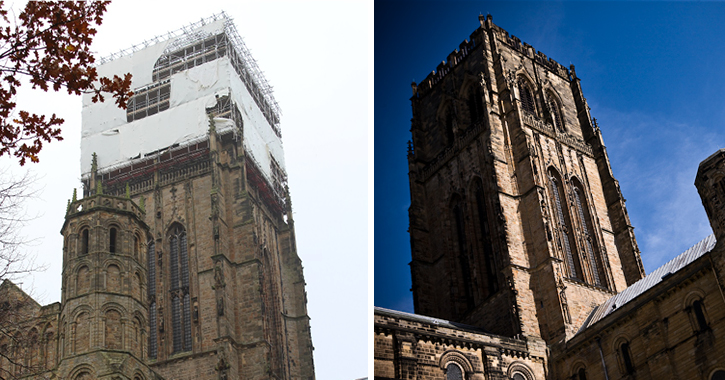 The long awaited unwrapping will be welcome news for those who have been eagerly waiting to climb the tower and see the stunning and unrivalled views of Durham City and the River Wear from the central vantage point of the Cathedral.
The tower project will enter the final stages of its £1.9 million refurbishment in November, with final masonry work finishing followed by the start of the long awaited unwrapping of the Cathedral, along with repairs to the lead roof and the installation of a new visitor platform in the New Year. Which means that visitors will once again be able to access the tower later in 2019 with a grand re-opening celebration.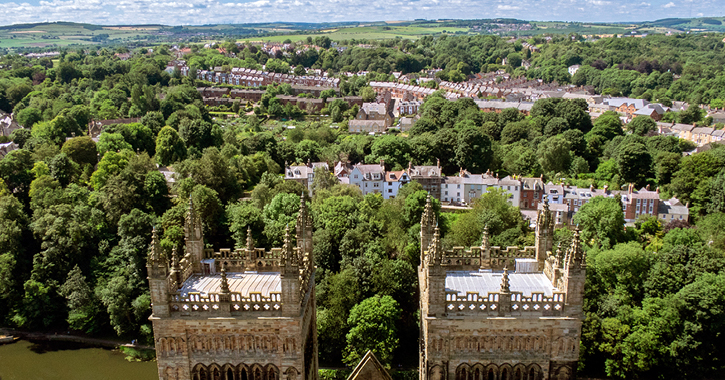 The first stage of the unveiling of the 66 metre high construct will be the removal of the remaining protective scaffold sheeting, which has protected the restorative work from the elements. Followed by the removal of the scaffold (weather permitting) as early as March 2019.
Work will then begin on repairing the lead roof and the installation of the new viewing deck.
The final stage will be the removal of the lift that has been on the exterior of the tower throughout the work.
We for one, can't wait to see the Cathedral unwrapped, and the stunning vista we all know and love return. Safe in the knowledge that the restoration work has ensured future generations will be able to enjoy the majestic Durham Cathedral and Durham City's spectacular skyline.
News of the grand reopening of the tower will be announced in 2019. In the meantime, tours of the Cathedral's North West Tower are still be available for visitors to enjoy.