Discover Durham's Gardens
From hidden gardens in the heart of the city to the grand gardens of stately homes - Durham has it all.
With its riverbanks, hidden gardens and parks, Durham City has many green spaces for you to enjoy.
How many cities can boast a green heart where a river seems to bring the countryside right into the middle of the city? Stroll along the city's riverbanks and see the historic UNESCO inscribed Castle and Cathedral in a new light - as a backdrop for flora and fauna that are a haven for Mother Nature.
Explore the hidden nooks and crannies of Crook Hall and Gardens, a stunning medieval manor house surrounded by glorious gardens just minutes from Durham City. Explore the secret walled garden, Shakespeare garden, Cathedral garden, silver and white garden, moat pool and meadow with maze. While away your time with an afternoon tea in the pretty courtyard.
The Durham University Botanic Gardens, 18 acres of parkland Oasis on the edge of the City of Durham, are set in countryside and mature woodland. The views change throughout the year with vibrant poppy and cornflower displays in the summer to rich warm colours in the autumn. Events are staged throughout the year.
In Teesdale you can also explore the tranquil gardens of The Bowes Museum. Enjoy 22 acres of parkland, have a picnic, or simply enjoy a stroll around these delightful gardens, originally designed by John and Josephine Bowes themselves.
The Durham Dales is also home to Raby Castle, which is surrounded by 200 acres of lush green parkland, where herds of Red and Fallow Deer live wild. Explore 5 acres of traditional 18th Century ornamental Walled Gardens including fabulous Yew Hedges, trees, plants and ornaments from the 18th and 19th Centuries.
And if you're staying overnight to enjoy the annual Kynren event, a visit to the park and deer house at Auckland Castle is not to be missed.
You may also like...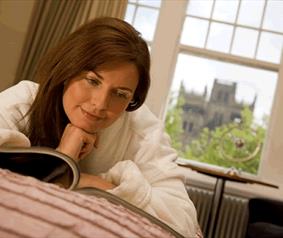 Find the perfect place to stay in the city, at the coast, in the Dales or the historic Vale of Durham.