Durham Cathedral Bus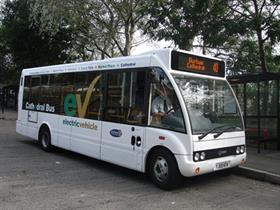 The Cathedral Bus is a dedicated service covering three routes linking the rail station, principal city centre bus stops, coach park and the market place with the World Heritage Site of Durham Cathedral and Castle. There are also peak time journeys to the Durham University Science Park. The service is operated using state-of-the-art battery powered buses, which offer the following benefits:


Each bus saves 15 tonnes of CO2 emissions each year.
There are no engine exhaust emissions.


Who can use the Cathedral Bus Service?
Anyone can use the bus. The buses have a step free entrance so are accessible for wheelchair users and people with buggies.
What's nearby...
Palace Green Library, in the heart of Durham city, holds Durham University's outstanding special...

0.04 miles away

Living on the Hills - 10,000 years of Durham. This permanent exhibition uses objects from Museum of...

0.04 miles away

Thought by many to be the finest example of Norman church architecture in England, with the tombs...

0.07 miles away

A free visitor centre providing an introduction to Durham World Heritage Site and what there is to...

0.07 miles away